About Ridery
Ridery: Customer App.
Downloads: 1M+
Avg. Rating: 3.5+
Language Integrated: 3+
Ridery: Driver App.
Downloads: 100K+
Avg. Rating: 4+
Language Integrated: 3+
The statement of the CEO indicates the experience after realizing the use of the customized base product. It also shows the product's market fit for the different regions and the efforts put into making it. Let's go through the entire journey and see the growth of a small startup, Ridery.

The Birth of Ridery
Ridery is an on-demand ride-booking and delivery services platform in Venezuela. They are the foremost trip booking application that is working over the Mobility as a Service (MaaS) methodology. It aims to offer one of the best vehicle rides with professional drivers, with all the safety and hygiene factors.
It all started in the initial months of 2020 when the Latin American administrations imposed social distancing protocols and confinements due to Covid 19. At this time, there was a boom in the digital industry where businesses were finding every way to move online, reaching customers and fulfilling their demands. That's the idea where Ridery was born in 2021.
How Eber Supports a Solution to the Problem
Developing a ride-hailing platform that could take the entire business online was a bit of a task. Building it from scratch would be more time-consuming, and addressing the problem for the public of Venezuela could have been delayed. The team of Ridery has started doing market analysis and getting associated with us as they found the Eber product is cost-effective with the essential feature sets.
They also found our product scalable and ready to be customized to fulfill future needs. The required featured integrations and all the design customization were done on time, and they launched their platform on time.
In a very short time, Ridery became the answer to public conveyance, taxis, and other norms of transit that positioned itself as the first necessary tool. The need has been proven with the remarkable 2 lakhs+ monthly trips on average and with the expansion of this business in the country's major cities. Both landmarks authorized the app to grow its fleet, which now possesses everything from motorcycles to armored conveyances.
How has Ridery Evolved

Even though Ridery was new to the individuals of Venezuela, it still served all types of convenience to move within the city or even the country, with a team of chauffeurs that are professional and maintain all the quality criteria portraying their business. It also connects the riders and drivers seamlessly through the app with a huge network of chauffeurs with a variety of vehicles.
Looking at the journey of Ridery, it managed to go from nothing to more than 4lakhs trips in a month. That's crazy! They then started offering various services like luxurious rides in armored vans and quick motorcycle trips, which have turned out to be a splendid solution for the low-salaried population who were preserving up to 70% of their trip charges.
If you see more about their team, it has more than 12000 qualified and interviewed drivers. They have more than 5 lakhs of users who registered to the platform. Ridery has a bunch of stories that make Ridery the foremost digital alternative for transportation in Venezuela. Their services have been launched in more than 12 cities with incredible victory, and they wil soon desire to maintain protecting this extensive market of more than 30M individuals.
The ridery has its operation in the city, becoming one of the mileposts in the world of technical entrepreneurship in Venezuela as it has become the foremost 100% national capital venture. This achievement has attracted many investors, like banking players in the country, helping them to boost their operations.
Where to find us: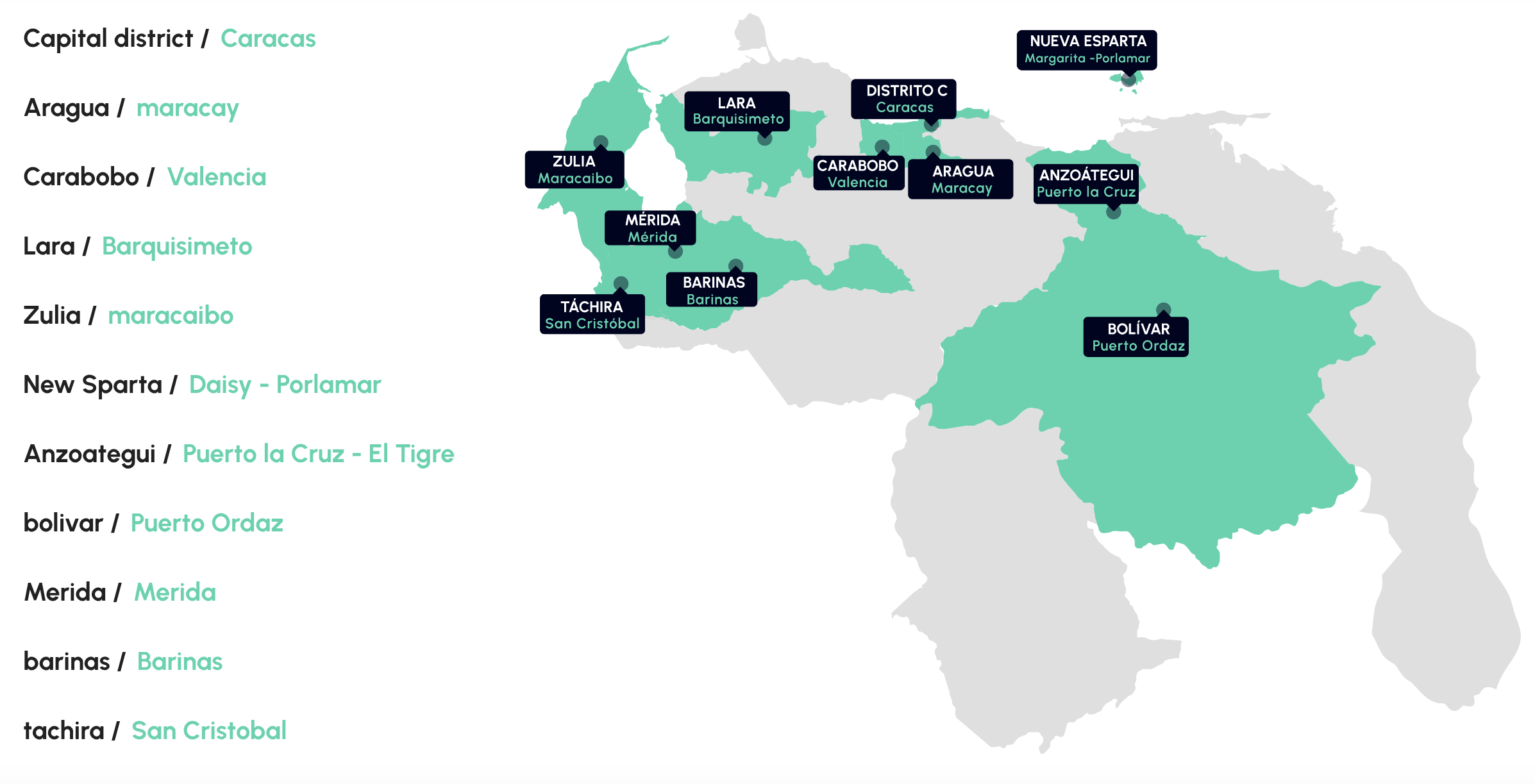 Best Rate with Quality and Safety to Customer
In a country where suspicion and distrust abound, the knowledge the apps for online ride-booking give on the driver, vehicle, price, and route has enticed riders.
"Everyone told us that we were crazy, that no one here was going to get in a car with a stranger, and that's why we launched with our own investment … seeing what was going to occur,"
"Delivery applications were already starting to expand in Venezuela. Dollarization had permitted the common transactional standards of e-commerce, such as credit cards, to be accepted in Venezuela, and also … you'd hear from many individuals that the city is a little securer," said Gerson Gomez, Founder and CEO of Ridery, which embarked in 2021.
Driver Earning:

Drivers who are connected with Ridery can make more than $700 a month, excluding extra expenditures such as fuel, vehicle maintenance, etc. Ridery tends to offer lower prices to their users than taxi cab prices, yet it managed not to provoke the sort of wide-ranging notice by chauffeurs in other countries.
Convenience payments:
Payment methods could have been a hurdle for any digital platform. When Ridery was launched, bolivars (Venezuela's currency) were scarce. At that time, even public systems were not taking foreign currency, and private operators could not readily give individuals transformation when the fare did not round up to prices corresponding to dollar bills: Quarters, dimes, and nickels were not in circulation.
So Ridery was offering and supporting various payment procedures, specifically online payments, including various Payment Gateways like Pago Movil, Luka, Zelle Ubbii, etc., which are secure and trustworthy for the people in the country.
The Team Who Worked for the Success of Ridery
The Ridery has dedicated technical and non-technical teams working from Venezuela headquarters. Along with this growing team from day one, the developers are working from Gujarat, India, from Elluminati.
The team of experienced developers is dedicated to working on this project for 2+ years and is still working. The entire team delivered a quality product in very minimal time as they developed it from scratch and kept enhancing the product to meet the customer's expectations. To make the customer satisfied with the service by working round the clock, the team in India and the team in Venezuela worked in the hybrid time zone.
https://tracxn.com/d/companies/ridery/__F5bhtOyrvp1voYtajpP2fov7H5-lTMnFaTUXhQP44dk
The Associated Press(AP) is an independent global news organization dedicated to factual reporting. Founded in 1846, AP today remains the most trusted source of fast, accurate, unbiased news in all formats and the essential provider of the technology and services vital to the news business. More than half the world's population sees AP journalism every day. https://apnews.com/article/latin-america-venezuela-caribbean-caracas-300804efe18da3a0fe45e84abfe77312
Latam Mobility is the Latin American community for sustainable mobility. https://latamobility.com/en/ridery-first-mobility-app-to-establish-and-scale-in-venezuela/
Ride Sharing Market Global Forecast to 2026 https://www.marketsandmarkets.com/Market-Reports/mobility-on-demand-market-198699113.html