Modern technology solutions have definitely changed the way of running a business. In the same way, digitization is transforming the way consumers shop for products. Whether you talk about electronic products, food, grocery, or making payments, the consumer's affinity towards smartphones increases and there is no doubt that digitization is redefining shopping and order ways. Gradually, the lines between physical shopping and digital ordering are blurring. In this blog post, we will discuss a UAE-based unicorn that has leveraged technology to improve the digital ordering experience. Keep reading. Any guesses? Ok, let us put a full stop to your guesswork. Here we are talking about the Lulu shopping app that has chosen to capitalize on this developing online food, grocery, and electronics, and lifestyle trends, as the first and growing digital ordering platform delivering products across the world.
Indeed, consumer's preferences have been evolving with time and entrepreneurs are taking advantage of modern technology tools to improve the shopping experience. If we talk about UAE's eCommerce growth, it is forecasted to rise 23% in 2022. Moreover, Dubai has become an eCommerce hub for African, Gulf, and South American markets.
From making online payments to ordering essentials online to doorstep delivery, the Lulu shopping app makes it easy for customers to produce products online and get them delivered at their doorsteps. Now you must be wondering how a single app can accomplish different tasks and provide an amazing user experience, for that you need to read the entire blog post as here we have discussed the history, business model, and revenue model of the Lulu App.
What is a Lulu Shopping Clone? Enable Customers to Order Anything
Lulu shopping clone is a reliable and responsive platform that is adapting to ever-changing business standards and aligns with customers' needs. Be it food, groceries, medicines, flowers, or anything, allow customers to get products at their doorsteps and enhance your existing business. Whether you are engaged with the supermarket business or run a single grocery chain, an app like Lulu shopping is the wisest choice you can make to upscale your business.
History, Success Story and Statistics
Lulu Hypermarket app allows consumers to find grocery items, meat products, seafood, organic products, and household essentials instantly and get them delivered at their doorsteps with real-time tracking features.
Consumers can also avail attractive deals and discounts while making purchases. The Lulu hypermarket app contains more than 30,000 products and 1500+ brands where shoppers can buy products and services at discounted prices and get them delivered at their location in no time.
Lulu Group International is a popular name in the retail and eCommerce sector, based in Abudhabi, UAE, Lulu is associated with a diverse range of businesses such as import exports, shipping, IT, trading, and Hypermarkets.
Founded by Yusuff Ali, Lulu operates in more than 22 countries with its wide business portfolio and impressive manpower of more than 57000 employees. From its inception, Lulu has really excelled in the retail sector and captured a huge share in the UAE business market.
There are more than 209 Lulu stores and 23 malls across the world, Lulu enters the hyperlocal delivery business where customers can buy products online and get them delivered to their doorsteps.
Brand Name: Lulu International Group
Founder: Yusuff Ali M.A.
Founded in: 2000
Headquarter: Abu Dhabi, UAE
Area served: Asia, Africa, Europe, and America
Number of malls: 23
Total employees: 57000
Website: http://www.lulugroupinternational.com/
Revenue: $7.4 billion (March,2020)
The Lulu group first opened its supermarket in Abu Dhabi when the retail and eCommerce sector was in the infant stage across the UAE.
Gradually, in 2000, Lulu group expanded its operations across the middle east and in 2000 opened its first hypermarket store in Dubai.
The group continues to achieve success and launched several outlets across the UAE including, Qatar, Kuwait, Bahrain, Oman, and Yemen.
In 2013, Lulu hypermarket started its business operations in Kochi, India, and right now Lulu International Shopping Mall is considered the largest mall in India.
In October 2020, ADQ (Abu Dhabi development holding company) invested $1 billion in the Lulu group for expanding its operations in Egypt. It is expected that this investment will create 12000 jobs and foster the economic growth of Egypt.
How Does Lulu Hypermarket App Works
As mentioned earlier, Lulu consists of an extensive range of products from daily essentials to organic products to beauty care products to groceries and meat products. Ordering through the Lulu app is a much easy and time-saving process. Let's go through the steps.
Customers can browse multiple services and products through website or application and add products to the cart
After adding products to the cart, customers are asked to make payment for the order
The store receives the order, and starts preparing for it. Lulu has its own delivery providers, they reach the store location and pick up the order.
Delivery provider reaches to customer location, hands over it, and asks them to make payment (if customers have chosen COD option.)
Customers can rate and review the service based on their overall experience.
Business Model of Lulu Hypermarket App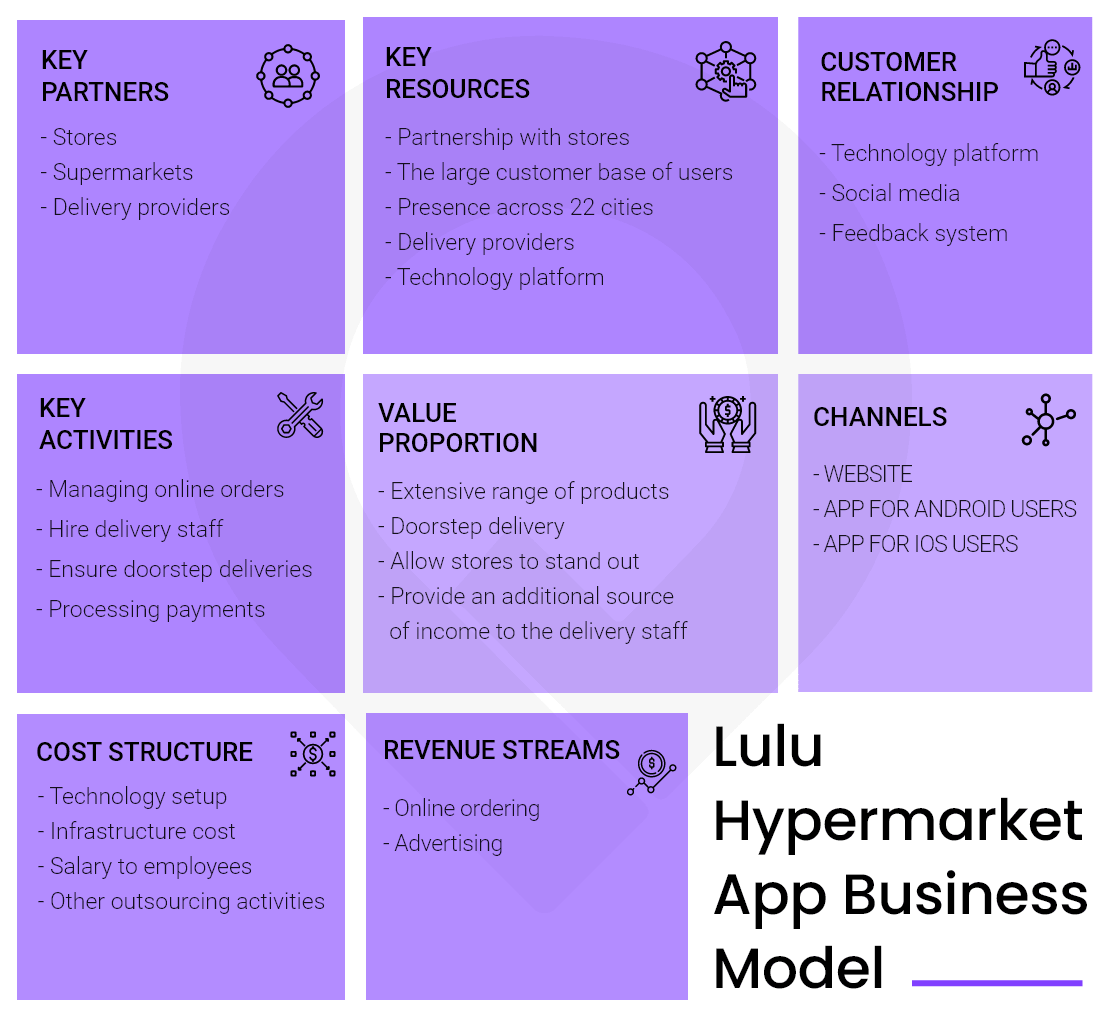 Lulu serves a large customer base across the globe, its headquarters in the UAE but operates malls, stores, and online delivery services in more than 22 countries across Asia, America, Africa, and Gulf countries. So let's discuss in detail how it provides value to customers.
Value Proposition
Lulu is the best retail brand across the globe and provides an amazing doorstep delivery experience to customers.

Whether from stores or online portals, Lulu offers products and services to customers at affordable prices. It also has inexhaustible offers on electronics, groceries, beauty products, and much more.

Lulu offers home delivery and online ordering services to customers where consumers can access thousands of products and get them delivered at their doorsteps.
Key Activities
Lulu serves more than 1,00,000 customers daily as it offers an online ordering facility to build strong customer relationships.

The group operates a network of more than 207 stores across 22 countries. In addition to retail stores, the company offers online delivery services through its Lulu hypermarket shopping platform.

It offers a wide range of products and services including organic products, baby care products, groceries delivery, and much more and making consumer's lives easy.
Revenue Streams – How Lulu Shopping App Makes Huge Money
Lulu Group generates huge revenue through the operations of stores and the digital ordering system. The company generates the bulk of its revenue from the product selling at stores, malls, and via its digital ordering platform.

The Lulu shopping app is popular and has thousands of users, so the company also generates decent revenue in the form of advertising and sponsorship.

Another major revenue source is the commission on each order placed. It charges a certain amount from store owners on each order fulfillment.
Interested in Adopting Technology for Your Business? Invest In-App Like Lulu Shopping
Customers have become tech-savvy and want everything at their fingertips. Earlier, grocery and other essential products were limited to physical stores but now you can see how entrepreneurs adopt cutting-edge technology solutions to deliver a personalized online shopping experience.
If you are new to the retail and online world, you can take inspiration from Lulu Group, along with delivering a personalized in-store experience, they also use a modern technology stack and make online shopping hassle-free. In order to survive in 2023, the adoption of the latest tech tool for your business is mandatory for boosting sales and staying relevant.
On the other hand, customers are showing more inclination towards online solutions. From food to ordering essential medicine to bookings, they use digital services and it seems like this trend will continue to flourish even after the pandemic ends because it offers comfort to people. Hence, business owners are taking advantage of this mindset and investing in an app like Lulu shopping to achieve remarkable growth.
But what is the accurate cost to develop an app similar to Lulu shopping? Well, no one can tell you the exact cost, there are several factors such as features, technology stack, development team location, app size, app platform, etc. that need to be considered while evaluating the entire cost.
If you are not much aware of technology trends, it would be great to hire a reputed and skilled app development company that can help you achieve business growth.
Create a Profitable Business with a Lulu Shopping Clone App
People are searching for smart ways to buy products and services rather than standing in a long queue and wasting their time. Besides, entrepreneurs are going digital to grow sales, revenue, and customer base. If you are one of the aspirant business owners and want to sail in the same boat, get in touch, we will leave no stone untouched to expand your business reach with Lulu shopping clone.