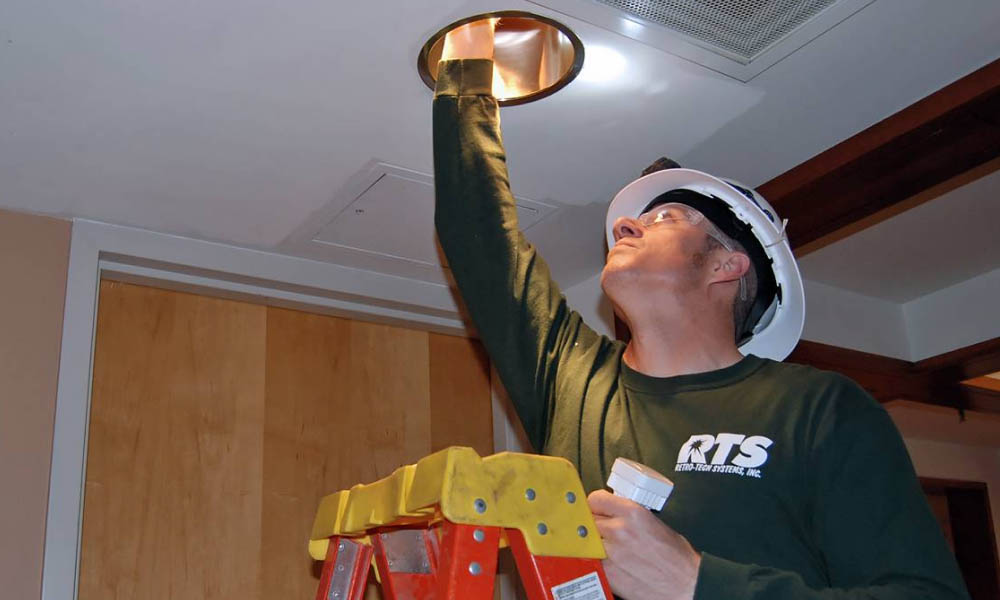 Thumbtack makes it dramatically easier for customers to hire services; simultaneously, the platform empowers independent professionals to grow their businesses. Check everything about the Thumbtack business model to know how it works, generate revenue, success stories, and insight into how the marketplace business took its business off the ground in a short period.
A services marketplace is a platform where customers search for services as per their requirements. At the same time, service providers can grab opportunities to earn more by offering their service to customers. The peer-to-peer marketplace has made it better, manageable, and transparent for both service providers and customers. Explore the whole article to find how Thumbtack made its place in today's competitive market, and check how customers and service providers leverage the platform's worth.
What is Thumbtack?
Thumbtack is an online marketplace platform that connects customers with local professionals as per their requirements. Presently, the marketplace platform offers more than 1,100 types of services in categories like wellness, home, events, lessons, etc. Thumbtack has made a fantastic administration by guaranteeing an excellent platform for an individual to search for and appoint a nearby service provider in the best and most effective way.
The marketplace platform provided significant advancement in the upbringing and development of an administration-based business bound to telephone directories, online registries, announcement sheets, and many other hassling processes. The primary source of income for the marketplace platform charges that the company collects on the purchase of credits from the experts. It's known as compensation for the individually quoted framework; it charges around 10% at the most.
Have an Overview of Success Journey to Know How Thumbtack Works
Founded by Jeremy Tunnell, Marco Zappacosta, Sander Daniels, and Jonathan Swanson in 2009, Thumbtack was a user-friendly alternative to classified sites and directories just like Yelp and Angie's List. In 2010, the one million marketplace business idea successfully attracted $1.2 million from angel funding.
Thumbtack made it easier for platform users to hire local professionals just as easy as to buy any other products online. The company's headquarters are in San Francisco; it serves customers in the United States and many other countries and cities very effectively. The five largest markets where Thumbtack has started offering its business service are New York, Dallas, Los, Chicago, Angeles, Atlanta, and many more.
Customers place more than five million service requests; they get the chance to choose from more than 1,100 unique categories on the platform as per their requirements. Thumbtack's most popular services include interior painting, singing lessons, personal training, catering, moving, and many more. Major competitors are TaskRabbit, HomeAdvisor, and others.
Explore Funding History of Thumbtack
In 2010, Thumbtack raised $1.2 million in funding from angel investors. Investors include Jason Calacanis, Joshua Schachter, and Scott Banister. Later, in 2012, the company raised $4.5 million through a Series A round of venture capital funding. In 2013, Thumbtack raised $12.5 million through a Series B round of funding.
Additionally, Thumbtack raised about $30 million through a Series C round in 2014; funding investors include Tiger Global Management and Sequoia Capital. In 2014, the company raised $100 million in a Series D round of venture capital led by Google Capital. Thumbtack in 2015, raised $125 million led by Baillie Gifford of venture capital funding. From the latest funding round, the company has raised a total of $275 million from the series G round.
Some Amazing Facts and Figures About How Thumbtack Works
Year of Thumbtack Launch: 2011
Headquarters: San Francisco, CA
Thumbtack Valuation: $1.7 billion< Platform Users: 10 million users
Thumbtack Employees in Number: 1057 employees across 3 locations
Active Professionals on Thumbtack: 250,000
Number of services available on Thumbtack: 1,100 types of services
Thumbtack Pro Median Annual Income: $61,000
Thumbtack Funding: $273 million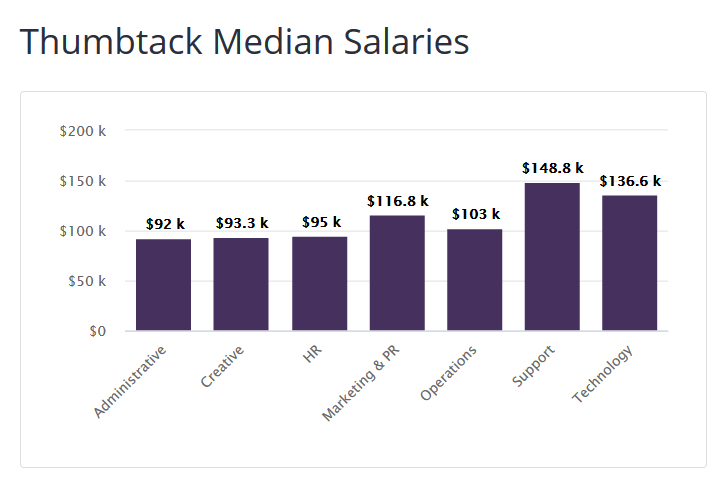 Thumbtack Business Model: Have a Quick Look Over its Overall Working Strategy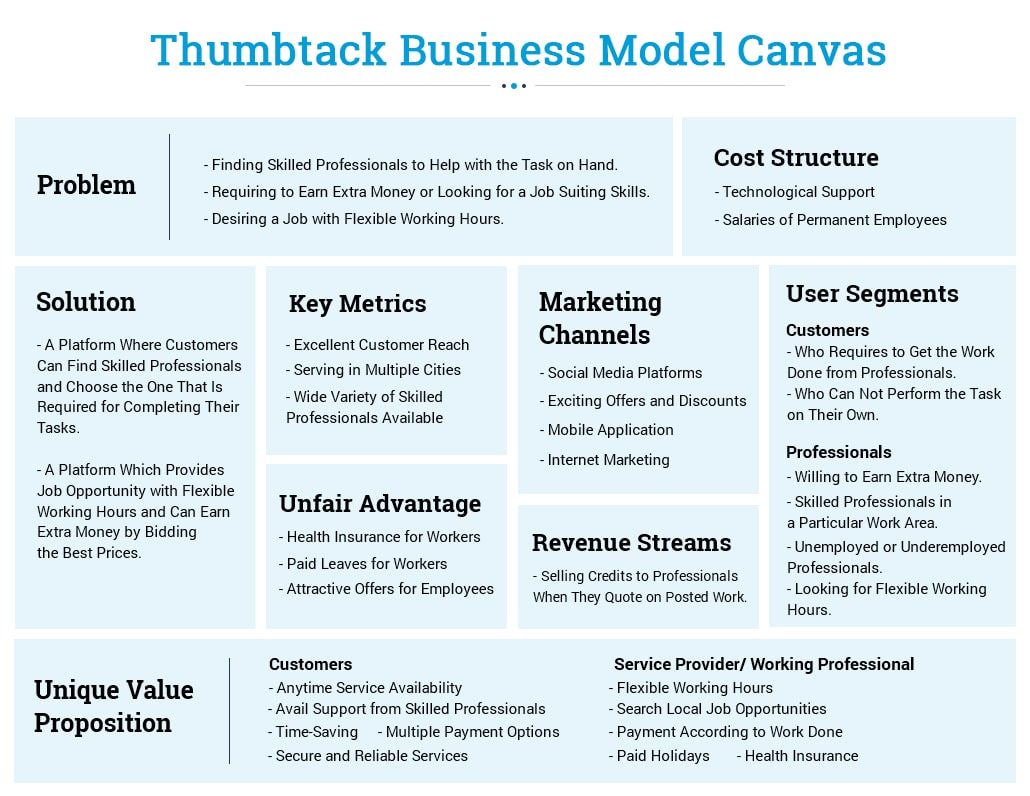 Thumbtack follows a straightforward working process; the platform matches customers with nearby service providers for whom they are looking to get their work done systematically. Check everything about the Thumbtack business model to launch a fantastic marketplace business just like it.
Customer Segments
The marketplace platform works on a multi-sided business model, with mainly two interdependent customer segments.
1. Consumers: Individuals who are looking for local professionals
2. Service Providers: Individual professionals seeking customers to earn money
Value Proposition
The marketplace platform provides mainly three value propositions, including:
Accessibility,

Convenience,

Brand/status.
The company creates accessibility for platform users by connecting them with local service providers. Its services are provided in more than 1,100 project categories, from wellness to home services; the platform offers its service in more than 50 states these days. The platform provides access to service providers to accept the service requests of customers looking for the same. Many professionals working with the Thumbtack platform are small-scale operations that may not have an online presence.
Thumbtack assures to offer convenience to customers by allowing them to use the platform without any hassle. Consumers start the process by addressing some quick answers regarding the type of service from the services apps they are looking to hire. They are provided with a quick listing that fits their needs; they can explore all the information about service providers like service time availability, customer price, and much more, before appointing any service providers from the list provided. They can also compare the quotes, profiles, and reviews to hire the best one.
Thumbtack has undoubtedly established a strong presence in the market, ensuring its success. The company has built its name as the world's largest mobile and online marketplace for appointing professionals as per requirement. It works with about 500,000 professionals, helping them earn over $1 billion a year. It manages around 160,000 customer requests per week and over 7.1 million customer projects annually, requested by more than 5.2 million customers.
Channels
The primary channels of Thumbtack are its mobile app and website. The company uses its social media account to promote its offerings and also to participate in conferences.
Customer Relationships
Thumbtack's customer relationship is primarily of a self-service nature. Customers utilize the service through its website and app while having limited interaction with employees.
The site provides many self-help resources, including cost estimates for specific services based on zip code, tips for hiring the right professional, house moving guides, and answers to frequently asked questions.
Key Partners
The on-demand marketplace platform doesn't believe in maintaining a formal partnership program. Moreover, the platform has strategic partnerships helping them to advance their interests. In 2016, Thumbtack announced an alliance with WhoDoYou, a social recommendations service. The collaboration enabled the company to serve an exclusive benefit for WhoDoYou's customers.
In 2016 Thumbtack announced a partnership with edible plant seller Monrovia. Monrovia directs its 8 million annual website users for Thumbtack, for landscaping, and related services.
Key Resources
In 2016, Thumbtack announced a partnership with edible plant seller Monrovia. Monrovia directs its 8 million annual website users for Thumbtack, for landscaping, and related services.
Cost Structure
The marketplace business platform follows a cost-driven structure to minimize expenses through automation and low-price value propositions. One of the primary cost drivers for Thumbtack is its marketing expenses and fixed cost mechanism. Other major drivers for the platform are product development, customer support, administration, and many others.
Thumbtack Revenue Model: Learn to Know How it Makes Money
Thumbtack works on a single revenue stream; the company charges fees from service providers to list their services on their database. Professionals need to pay to leverage Thumbtack credits to contact customers who are looking for the same service they want to provide. Professionals/ Service providers can only send quotes to customers if they have Thumbtack credits.
The marketplace business platform doesn't charge any penny for the jobs they complete or other jobs that service providers get from repeat customers and their referrals; they only have to pay for a quote at the initial level. A single credit cost of Thumbtack costs between $1.50 to $1.42. Professionals can leverage platform benefits on bulk credits. Professionals can invest in 12 credits packs, which cost around $17.99, a pack of 24 credits, which costs about $34.99, or a pack of 60 credits for approx $84.99.
Each professional who wants to offer their service through the platform must start with at least ten quote packages. Once professionals send ten quotes, they have to choose a credit package to provide continuous quotes and service to customers on their demand.
Thumbtack Business Model: Know Why You Must Follow it!
Thumbtack is undoubtedly endeavoring to offer the conventional way by which professionals and experts can contact each other. Instead of having inquiries through postings, customers have to disclose what they require on the Thumbtack platform. The company points the data to professionals who can choose to provide their service if the activity is ideal.
Thumbtack has shifted its focus on upgrading its marketplace with automation tools and doubled down its independence to match service providers with customers efficiently. Finding the perfect business model was one such thing that saved Thumbtack from withering on the vine. You can also follow the same business model for your marketplace business to ensure your business success and growth.